---
Vintage School Programs & Souvenirs
A collection of school items, arranged from the oldest to the newest.
If you find a relative here, want to get the price of an item, or just want more information on any of these, send an e-mail to: bruce@ancestorinfo.com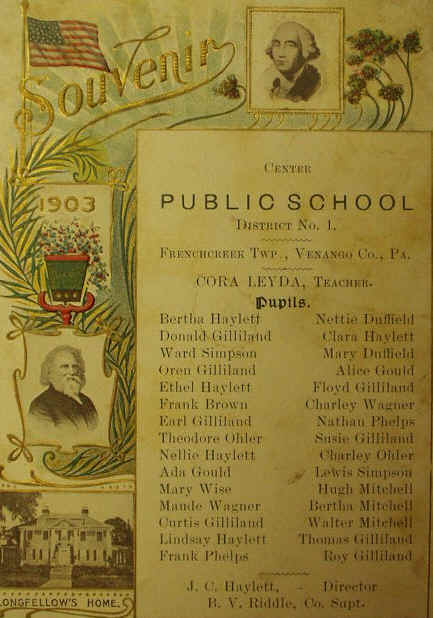 Full color souvenir card and gold embossed souvenir booklet with all of the students at Center School, Frenchcreek Township in Venago County, Pennsylvania. The teacher was Cora Leyda the director was J. C. Haylett and the County Supertindent was B. V. Riddle.
Item # 10240 & 10241
Students of 1902
Brown, Frank
Duffield, Mary
Duffield, Nettie
Gilliland, Curtis
Gilliland, Donald
Gilliland, Earl
Gilliland, Floyd
Gilliland, Oren
Gilliland, Roy
Gilliland, Susie
Gilliland, Thomas
Gould, Ada
Gould, Alice
Haylett, Bertha
Haylett, Clara
Haylett, Ethel
Haylett, Lindsay
Haylett, Nellie
Mitchell, Bertha
Mitchell, Walter
Ohler, Charley
Ohler, Theodore
Phelps, Frank
Phelps, Nathan
Simpson, Lewis
Simpson, Ward
Wagner, Charley
Wagner, Maude
Wise, Mary
---
Commencement Program of the Newbury School June 12, 1903. Unfortunately, we do not know where the school was. The Teacher was Miss Minnie Martin and the Principal was Miss Adelle Dallet. The students performed an operetta at graduation, and the program has the list of characters and a summary of the operetta.
Item # 10045
Class of 1903
Bender, Maurice
Brown, Marjorie
Bullerdieck, Anna
Cunningham, Harold J.
Fuller, James
Kirkby, Margaret A.
Lester, Charles R.
Luebka, Oliver A.
Miller, Julia C.
Peterson, Anna
Poggemeyer, Burnett
Schroeder, Herbert W.
Shafer, George
Stanley, Lucile
Wheeler, Charles W.
---
Souvenir for the students of Stewart Public School in Colona Township, Henry County, Illinois. Prepared by the teacher Hedwig E. Roesner (her photo is on the front). School board members are; John Holden, Charley Frey and Wilhelm Oelke.
Item # 10451
Students of 1904
Becht, Paul
Bennett, Herbert
Boehm, Frank
Boehm, Gracie
Boehm, Lena
Boehm, Martha
Johnson, Clifford
Johnson, Pearl
Millark, Arthur
Oelke, Frank
Oelke, Lillie
Oelke, Lizzie
Roesner, Arthur
Roesner, Edward
Roesner, Tracy
Smith, Emma
Wright, Charlie
Wright, Lizzie
---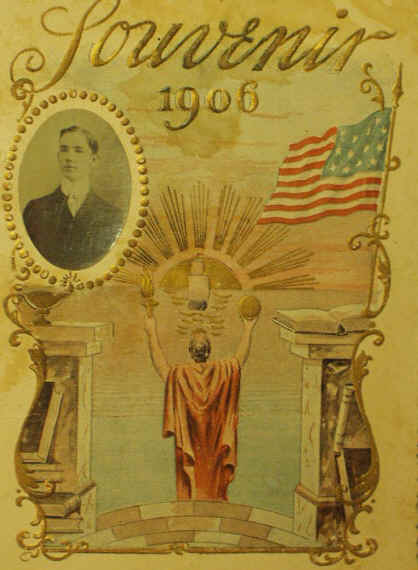 Souvenir for the students of Rose Hill Public School, Fountain Township, Ottawa County, Kansas by the teacher Prescott W. Eames (his photo is on the cover). Officers for the school are; I. W. Ferris, W. B. Ross and Sam Bradbury.
Item # 10406
Students of 1906
Boyer, Chester
Brown, Eugene
Brown, Helen
Burns, Irvin
Burns, Iva
Burns, La Vola
Burns, Robert
Crabs, Donald
Crabs, Douglas
Ferris, Vesta
King, Emmit
King, Irwin
King, John
Locke, Henry
Locke, Leslie
Miller, Anna
Miller, Azalia
Miller, Vera
Reynolds, Lee
Reynolds, Norman
Ross, Alla
Ross, Elma
Ross, Gilson
Ross, John
Sechrist, Gladys
Sechrist, Rena
Virgason, Anna
Virgason, Cora
Virgason, Floyd
---
Graduation Exercises of the York Township Schools at the Metz Christian Church on June 25, 1908. This may or may not be from the Indiana area. Teachers were Clara Schmeiser, Evilo Gaskill, Hattie Robinett, Callie Brandeberry, Zoa Wicoff and Nellie Crampton. The Township Trustee was Erwin Rose.
Item # 10441
Class of 1908
Barnes, John
Bunce, Wesley
Cox, Warren
Dick, Beryl
Dick, Fern
Durham, May
Egbert, Ruth
Gaskill, Mabel
Light, Ralph
Nedele, Nellie
Osfall, Emma
Stallman, Carl
Williams, Mabel
---
Commencement Program of the Winamac High School on May 13, 1910 at the Opera House. This is probably Winamac, IN. People who took part in the program were; Rev. A. S. Warriner, John W. Bratton, Joseph S. Nathan, Dr. Francis J. McConnell, Stanleigh P. Friedman, Homer Morrison, Ashley M. Ballou, R. P. Harker (the Principal), Albert Von Tilzer and Rev. E. Miller.
Item # 10441
Class of 1910
Aery, Rhena
Blew, Mary
Cox, Anna
Flauding, Willard
Hare, Mable
Heise, Jessie
Henry, Nina
Kelly, Francis
Morrison, Homer
Noe, Amy
Olds, Nellie
Smith, Ethel
Stout, Pearl
Werner, Lelah
Werner, Mabel
---
Invitation to the Commencement Exercises of the Senior Class of Tyner High School April 21, 1911. Tyner is near Chattanooga, TN.
Item # 10315
Class of 1911
Brooks, Gilbert Alonzo
Haenseler, Adelia
Johnson, Anna Mack
Smith, Kittie Emma
Standifer, Lee Roy
Standifer, Mary Alice
Standifer, Sidney Ann
Varnell, Chester Cleveland
Walker, Evangeline Beatrice