---
Family Photo Albums and Collections
If you find a relative here, want to get the price of a photo, or just want more information on any of these, send an e-mail to: bruce@ancestorinfo.com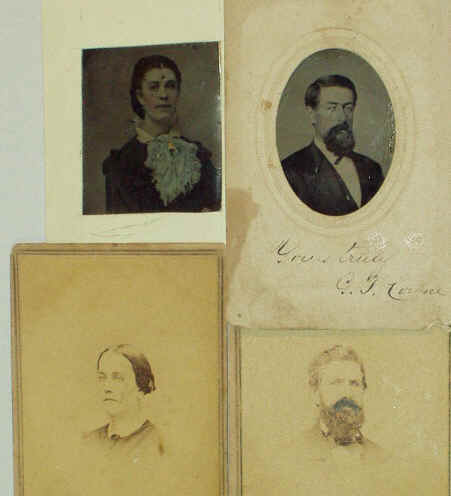 Two tintypes and three cabinet cards of the Coyne family (Photographer was, "Jordan & Co. 229 Greenwich St., Established 1846"). Much of the handwriting is hard to read. But they are marked as follows:
"Annie Coyne daughter of Thomas Coyne & Neice of Jas. Coyne"
"James Coyne (Grandpa Coyne)"
"Harriet M. Coyne (Grandma Coyne)". It is also stamped, "Geo. T. Coyne P O Box 540, Stapleton N. Y." There are also some notes in a different handwriting.
"Taken ?? 1868, Yours truly G. T. Coyne" It is also marked on the front, as seen above.
Item #10483
Two tintypes of the Dr. & Mrs. J. C. McCauly family. The first shows them dressed for a day at the beach. The other one shows brother and sister, Mary M. & E. S. H. McCauly. The photo is marked for an enlargement of Mary, June 15, 1892.
Item #10532
A collection of family letters from Fresno & San Jose, CA in 1888 & 1889. There are also 4 tintypes, which are not identified, but probably show the people who wrote the letters.
From mother to son, sent to Fresno on August 20, 1889. Talks about homesteading and mentions Susie & Marshal, Blakie, Jenny & Mate.
Letter to Susie Campbell of Fresno from mother
Letter to brother and sister, May 31, from M. Campbell. Mentions that Cole brought mother over to visit. Mentions Mate & Jennie came down with James Lang? Robert, Janie, Frank, Mate & Jennie all started a trip together.
Letter to Dear Cousin Aggie from Nancy Fletcher.
Letter to Mr. J. Jack, my dear Uncle from Agnes M., June of 1889. Mamma, PaPa, Frankie, Mary A. and Jennie all went to San Luis yesterday and are coming back today.
Letter to Kate in San Jose, CA from Jean Smith at State Normal School in San Jose, CA, Feb. 23, 1888. Mentions her cousins in Salinas, Eddie, Johnnie, Willie. Also mentions Gertie Rowell, Aunt Josie, Ed Shaw, Ella.
Item #10507
Album page with photos on each side. Children pictured on 1 side are, Betty Jane Hamilton, Lillian Hunter White, Ruthie Estes, Dale Estes, Paul and Mignon Putty.
Other side is a photo of a man in an office. Caption reads, "Dr. L. A. Nelson, Office Nethery? Clinic, 1921" The medical license on the wall is from Texas.
Item #10538
Two Victorian photo albums, the first is a large blue album with 24 Cabinet Cards and 1 Tintype. The second is a large red album with 38 Cabinet Cards.

Item # 10545

Names
Description
Delia 5 yrs. 3 mo. Ethelyn, 12 yrs. Photographer was Stewarts Gallery in Waterville, KS.
Van Dyke, Mrs.
Gerald's Aunt Also says, "Lavina Daniels one of Grandma Weeks' Sisters.
Weeks, Clinton K.
Age 5 1/2 months, Dec. 6, 1900, Gerald's oldest brother.
Grandma M. F. Weeks' Father Daniels
Grandma M. F. Weeks' Mother
King, Obediah
King, Ellie Cowell
Palmer, Osmer & Phoebe Strang
They ran the West Earlton Store on Reswelt Rd. before the name was changed to Earlton-Gayhead Rd.
Losee, Omer
Photo is missing from book.
Youmans, Bertha
Start of Album #2

King, George
Obediah's Father
King, Rose
Obediah's 1/2 sister
Griffin, Charley
and possibly his wife, "Friends of Obediah & Ella King"
Phoebe Sands father and mother
Simmons, Ambrose
Simmons, Phoebe Sands
Paulson, Ina Campbell
cousin of Ellie King
Travis, Herbert
Friend
Weeks, Bertha Mae King
at 16
Griffin, Adaline
Aunt
Losee, Omer
Wedding picture, but it is missing
Losee, Emmelisa Palmer
Wedding picture, but it is missing
King, Bertha Mae
Clinton K., Gerald E., Otto C. & Ernest Weeks mother as a young girl.
Weeks, Clinton K.
1900-1941
King, Obediah, III
King, Ellie Cowell
Nelson, Edgar
Ella King's cousin and family.
Campbell, Gerard & Libbie
Ina's parents, homesteaded out west.
King, Alice
Obidiah's cousin
Obidiah Kings' grandparents, Losee, His mother's (Rachel) parents
Last Obidiah King's grandparents Obidiah King II & Wife
Palmer, Ella King's sister
E. King's friend
Nelson, Charles
cousin
Nelson, Ella
Minister's wife
photo missing, Ella King, Bertha King & E. K. sister-in-law
King, Obediah
Gerald E. Week's grandpa
missing photo, Ellie King at 12 or 14
Roe, Helen
Friend
Nelson, Albert
Grandma Ellie King's cousin and wife from Gloversville.
Ingalls, Truman
King, Adlaid
Obediah's sister
Ellie King's friend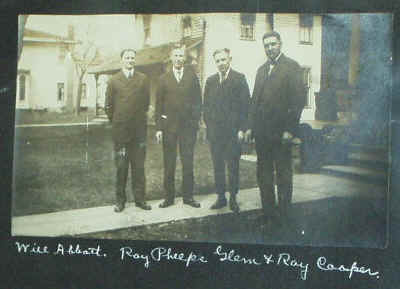 Several loose album pages, with snapshots.
Item # 10435
Will Abbott, Ray Phelps, Glen & Ray Cooper
The "Old" Farm house built when Grandparents came to Michigan from York State in 18-, Torn down in 1920.
Abner and Grandpa, 1919
Chett Brown taking honey. Photo of beekeeper. 1921
Brown Abner ?????? paper torn., Photo of 2 boys and a woman.1921
Tara?, Abner, Chett. Photo of 2 boys and a man., 1921
Jack, Abner, Pom. Photo of boy and 2 dogs (Pom and Jack the dogs), Summer 1921
Little boy with squirrels after a hunt.
Photo of man and boy. Swope Park, Vacation time, 1919.
Photo of boy, Swope Park Lagoon.
Will Drake, 1919
Photo of 3 children. Abner and cousin LaVon and Ruby, Summer 1919.
Photo of boy, man and burro or mule. Abner ??? paper torn.
4 photos of baby and mother, only marked, "1 year"
3 photos of baby, only marked 1 1/2
Uncle Gus and Aunt Alice, Mother and Abner, probably 1923.
Abner and Lois Burdett ?
Two photo albums.
Item #10582
Loose Photo postcard, King & Kelly, Souvenir of Old Orchard, ME, 1916
Start of Album # 1, looks like most of the photos are from the 1920's and before.
Wells Beach Maine, Martha Curley & Rusty & Margaret Cullian
Mary Curley, Somersworth
E. Bowdion & Martha Curley
Delia McIntrye, Ma Curley, Martha, Pa Curley
Mrs. Ellen Curley
G. Bowdion & Martha Curley
Mary Curley & Ma
Alice Collins, Nellie King
Martha G. Curley, 1916
Jones Plane, Old Orchard (Photo of a damaged plane on a wrecker)
Mary & Mrs. Higgins & Dr. Higgins & Andrew C.
Curey & McGrail & Hardy (Photo of 3 nurses)
Gilmore McDonald
Ed Flanagan & M. Berry & E. Flanagan & McGee (Photo of several men in a canoe)
Lena Bowdion
Clarence & Irene & Harold Wentworth
M. Cullian & H. Briggs (Beach photo)
Several other pictures of the people named above, their friends & co-workers.
Start of Album # 2, most of the photos are from the 1920's to the 1960's, but also a few tintypes.
Newspaper clipping about James E. Kelley retiring.
Tony Bove, Dec. 1959
Christopher Bove, Dec. 1959
Matha, Irene, James & James, Jr. Kelley in many photos, over a long period of time. Also more pictures of Martha Curley and her family.
Harold Cole, Saco, ME
Mrs. Bryant, Leon & Ada & Horald Cole, Mary Curley
Ellen Lucy & Horald Cole (Photo of 2 children)
Death notice & photo for Elizabeth Agnes Burns Rice, 1874-1947
Andrew Curley, 2 photos
Uncle John & Ma Curley & Aunt Rose
Rose & George Krug
Ma & Pa Tintypes
Photos of a vacation to Niagara Falls and other places in 1937.
Trip to visit Cindy & Scoopy Murray in California in 1963 Photos of them, their house, horse Sebago & dog Lovey.
Pearl McGrath & Florence O'Rourke (Photo of two ladies on the beach)
Photo of Mary's Home, Rochester, NH, 1938
Rose & George Krug & Maurice Rowe, 1940
Photo of Curley home, Somersworth, NH
Photo postcard of Lawncrest Farm, Woodman?, NH, 1934
Mr. & Mrs. Douglas, of Saco, ME
Martha Long, 1929
Photo of birthday party for Mrs. Ida Letch, 90 years old
Photo of Mrs. W. Douglas house
Mable Bernard
Uncle John's house, New York
Kelly & Mary & Maurice Rowe
Floss O'Rourke
Florence O'Rourke & Marha
"Bud" Sugden (Child) and Mrs. Frank Sugden's home, Sanford, ME
Andrew Curley
Mary Curley, behind the wheel of her car.
Kathleen Kelly & Mary, 1938
Mrs. Gray, Jr. & Mrs. Gray, Sr.
Marcella Bove
Mary & Clara & Mrs. Kelley
And many other pictures we did not list, which either repeated names from the above or are unlabeled.