---
Family Group Photos
From our collection of vintage photographs.
If you find a relative here, want to get the price of a photo, or just want more information on any of these, send an e-mail to: bruce@ancestorinfo.com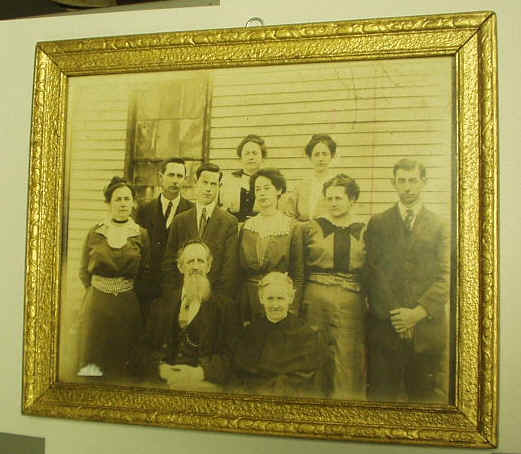 Framed photo of the Summar family. Grandpa & Grandma & Hall & Landis & Will & Etta (Mrs. Jessie Carter) & Ella (Mrs. Tom McBroom) & Lettie (Mrs. Bob Bragg) & Lillian (Mrs. J. B. Bell).
Item #10405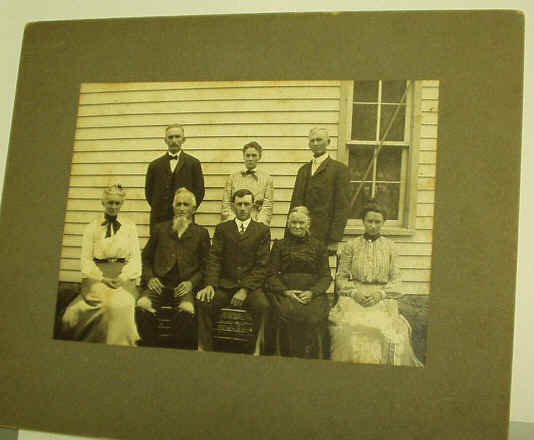 Two Gould family photos. First photo is five adults; " Uncle Abner Gould, Uncle John Gould, Aunt Clara Gray, Clinton? Gould, Uncle Will Gould"
Second photo is a larger group. "Aunt Rebecca Gould, Aunt A? Gould, Mother, Aunt Lilly Gould, Uncle Abner Gould, Uncle John Gould, Aunt Clara Gould, Aunt Clara Gray, Papa, Uncle Will Gould"
Other writing on the back says, Mrs. H. G. Gould, Lawrenceville, Tex?" and a description of someone in the pictures eye, hair, suit and tie color.
Item #10102 & 10103
Cabinet card photo of two Children. Handwritten on back, "Horace J. Anderson; Born Jan. 12, 1904; Eva L. Anderson, Born Aug. 6, 1905"
Item #10264
Cabinet card photo of two couples. Handwritten on back, but very faded, are the names, "W. H. Wicks, J. F. Wicks, J. D. Wicks" Also says, "By John Wicks", so I guess he was the photographer.
Item #10047
Cabinet card style photo. Handwritten on back, "Mrs. Steadman, Ellen & Lee Vaughn, Rhoda Vaughn, Tesse and Lester Vaughn""
Item #10487
Faded photo of 3 ladies in elegant dresses, one young man and 2 children. Names are handwritten on back; Iona & Jack & Ida MacLanahan. Lois & Mabel & Florence Whitacre.
Item #10218
Photo of three children. Written on the back, "Otis E. Reid, Lelis Boice, Lena Boice" Also, "Otis Reid's Half brother and sister"
Item #10207
Two Cabinet card photographs of ladies. One lady is Clara B. Keith of Hardwick, VT, one is Mary L. Boeworth of Barre, VT and the other is Nellie Keith of Barre, VT. The photographers were Chase of Barre, VT and Sherburne of Barre, VT.
Item #10187 & 10188
Large photo of, "Mothers brothers, the Long boys" They are John & Ezekiel & William & Blackburn & Joe & Ed. The photographer was; Neef and Long of Springfield, IL.
Item #10455
Cabinet card photo a man, a woman and two children, who are the Allwardt family. They are Bill & Johanna & August & Caroline (Bartels or Bartils).
Item #10456
Large group photo outside of brick building, street # 1532. 2 adults, 5 children and 3 teenagers. Handwritten on back, "Roberts family from Minersville" (This is crossed out). Then is written, "Fournier family - Wilson B----?, lived next door to Uncle George on street below Ann's".
Item #10066
There are three photographs in this group. The largest has 31 people, with the following names.
Hudlow: Jake & Flora May & Jack & Anna & Robert
Nicewander: Harry & Mary & Eral & Robert
Stidham: Charley & Chester & Bertha & Mary & Jane & Alexander
Yanch: Lizzie & Frank & Theodore & John & Mary & Willis & Charley & Agnes & Mary & Jacob & Minnie & Russell & John & Paul & Joseph & Ellen
There is also this note written on the back, "Father & Mother, Children, Grand Children and Great Grandchild all being present in this picture but one. Pearl Stidham was the only one not present and she stayed home on the account of her beau."
Item # 10094
The next largest photo has the following 8 names written on the back, "Frank Yanch, Anna Yanch Hudlow, John Yanch, Jane Yanch Stidham, Jacob Yanch, Willis Yanch, Mary Hala Yanch, Mary Yanch Nicewander"
Item #10095
The smallest is a photo of man and woman. Handwritten on back," John Nicewander and wife". Photographer was Phillips, La Fayette, Ind.
Item #10091
Large family photo. Unfortunately it has water stains around the edges, but the people are plainly visible. Written on the back in one handwriting is, "1883-90". I think they were trying to guess the year. In another handwriting is the following:
David Richard Thomas (Grandpa)
Mary Evans Thomas (Grandma)
Albert, killed by runaway mules (stalkcutter) 15 yrs. old
John M. (Mike, Edith, Esther, Bert, Addie, Lizzie, Glenn)
Robert M. (Harry, Ellen, Ruth, Bertha, Robert)
Richard Evans (Mary, Alice, Esther, Dave) (Walter? died 2 mo.)
Jane Ann (George, Will, Dave, Robert)
Mary Elizabeth (no family)
Geo. died (what we call append. now) 28 yr. old
There are only 7 people in the picture, but 9 listed. There is a photo of a young man on the wall I believe it is Albert.
Item #10645
Ancestor Info is a free access genealogy database, made up of dozens of smaller databases. We are different from many of the databases on the internet, because we own all of the materials we index. When you order information from us, we send you the original item or we copy the information directly from the original source.
We have hundreds of unique antiquarian sources with thousands of citations. Many of these books, documents and historical records are one of a kind or are extremely rare, but we have indexed them to assist in your research. We index biographies, directories, yearbooks, alumni guides, obituaries (necrology), tax books, journals, magazines etc... We might have ads from the old family business or family farm, salary or school records, an obituary which ranges from one paragraph to several pages long or records of war service. When we send you copies of this type of information, we also send the title page, any lists of abbreviations or other relevant pages.
We have thousands of biographies ranging from one paragraph to several pages long, and many of these include a photo, portrait or engraving. During the late 1800's and during the 1920's, (before the Great Depression came along) almost every area of the country did Who's Who type books of locally prominent people, and many clubs and civic groups did a directory featuring biographies and sometimes photos of their members. So even if your ancestor was not rich and famous, we might have them listed.
If your ancestors are in one of our high school or college yearbooks, we can send you copies of their photo or listing, but we also send copies of the school calendar, general interest photos of the school and classmates, and there is usually a section with jokes or corny stories. It is almost like visiting the school 75 years ago, while your ancestors were young. Some yearbooks also include information on faculty and alumni.
Our collection of several hundred original, vintage photographs includes antique photos of all types; cabinet cards, tintypes, carte-de-visite (CDV's), portraits and real photo postcards (RPPC). We also have photo albums, group photos from family reunions, the workplace and schools. Most of these photos are over 75 years old.
Our ephemera collection has over 1,000 pieces includes vintage or antique documents, letters, billheads, invoices, postcards, wedding invitations, business cards, prescriptions, matchbook covers, Victorian trade cards, school programs and school souvenirs. Most of these items range from 50 to over 125 years old.
Whether you are researching your family roots (or lineage), we can help. Please check our database for all the branches and surnames from your family tree. We have also been able to assist writers and collectors in their background research on the history of people or companies in our database. We cover everything from birth records to obituaries, military service during the Civil War and World War 1, and almost every aspect of daily life and day to day business in the late 1800's and early 1900's.
While we charge a fee to send copies of information or original items, it is a small price to pay to find potentially valuable information from long ago (and it may even help with that brick wall you have been facing in your research).
Please use the on-site search engine at the top of this page to see what family treasures we may have waiting for you. Or visit our home page for a detailed overview of the resources we have available.
(commonly misspelled words: genology, geneology, geneaology, genology, ancester, ancester's, ancestar, ancestar's, ephamara, ephamera, biografical, biogrophy, surnam)