---
Business Cards, 1904 Collection
If you find a relative here, want to get the price of a business card, or just want more information on any of these, send an e-mail to: bruce@ancestorinfo.com
These cards were all collected together, I think, by George E. Davis of Virginia, so I have kept them together in the database. Some are business cards and some are personal calling cards. To judge from some of the handwritten notes, he was a bachelor and quite popular with the ladies. I wonder if he married one of them?
Item # 10416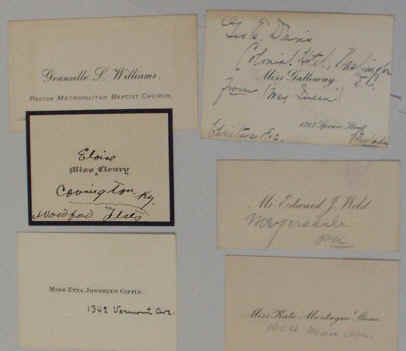 Name
Place
Business Name
Notes
Aydelott, Josie, Miss

Barr, William A.
Washington, DC
Post Office Dept.

Blake, C. Alexander, Mrs.

Bolton, Charles Edwin, Mrs.

Handwritten, "1302 Floyd Ave."
Bugg, Virginia
Farmville, VA

Handwritten, "I enjoyed so much seeing you on the street yeaterday afternoon; March 3, 1904" "….When I am not with you I don't forget you." and 2 other cards given with gifts.
Cleary Eloise, Miss
Covington, KY

Part of info printed, part handwritten
Curlin, Thomas E.

Handwritten, 1030 Bloomfield St.; Hoboken, New Jersey"
Eustaphieve, Clarence Alexis

Ford, Miss

1127 Seventeenth St., N.W.
Galloway, Charles A.

Galloway, May, Miss

1230 Walnut Street
Galloway, Miss
Philadelphia, PA

Handwritten, "From "May Queen"; Christmas 1902; Geo. E. Davis; Wishing George dear a happy Christmas…" Her address was 1312 Spruce St.
Giffin, Etta Josselyn

Handwritten, "1342 Vermont Ave."
Harding, B. B.
Roanoke, VA

Consulting Public Accountant, Ex-United States National Bank Examiner.
Hobensack, Wilkins

Sec. To Hon.

I. P. Wanger
Howard, Miss

Handwritten, "Louise Meriwether Howard dignified by the title of…." Possibly "Dallas, Texas", but 333 Canton St. is printed.
Johnson, Enoch G.

Handwritten, "1827 Corcovan St."
Jurney, Chesley W.
Waco, TX

Kalauokalani, D., Jr.

Klein, Antoinette, Miss

Lawler, Miss

Handwritten, "A Merry Christmas" and other gift cards.
Lee, E. Trumbull

A newspaper clipping glued to the back, and 1904 written.
McClung, Alice Winona

Page, John
Richmond, VA

Secretary to John Lamb
Pressey, H. A.
Washington, DC
Columbian University
Civil and Hydraulic Engineer
Rector, Miss

Handwritten, "Chestnut Hill; Philadelphia"
Rhea, Miss

Rousche, Fannie M.
Washington, DC

Ryan, Margaret, Miss

Saunders, I. H.
Washington, DC
Washington Timber, Mineral & Farm Agency
Handwritten on back, "John Graham; 505 Chestnut St.; Phila., Pa.; consulting engineer" and other notes.
Scott, W. P.

Clerk's Doc. Room H. R.
Stone, Kate Montague, Miss

1004 Moss Ave.
Sypher, Howard Hungerford

Handwritten, "614 Drexel Bldg.; Philadelphia"
Townsend, Marian, Miss

Weld, Edward J.

Handwritten, "Meyersdale, Pa"
Williams, Granville

Metropolitan Baptist Church
Pastor
Ancestor Info is a free access genealogy database, made up of dozens of smaller databases. We are different from many of the databases on the internet, because we own all of the materials we index. When you order information from us, we send you the original item or we copy the information directly from the original source.
We have hundreds of unique antiquarian sources with thousands of citations. Many of these books, documents and historical records are one of a kind or are extremely rare, but we have indexed them to assist in your research. We index biographies, directories, yearbooks, alumni guides, obituaries (necrology), tax books, journals, magazines etc... We might have ads from the old family business or family farm, salary or school records, an obituary which ranges from one paragraph to several pages long or records of war service. When we send you copies of this type of information, we also send the title page, any lists of abbreviations or other relevant pages.
We have thousands of biographies ranging from one paragraph to several pages long, and many of these include a photo, portrait or engraving. During the late 1800's and during the 1920's, (before the Great Depression came along) almost every area of the country did Who's Who type books of locally prominent people, and many clubs and civic groups did a directory featuring biographies and sometimes photos of their members. So even if your ancestor was not rich and famous, we might have them listed.
If your ancestors are in one of our high school or college yearbooks, we can send you copies of their photo or listing, but we also send copies of the school calendar, general interest photos of the school and classmates, and there is usually a section with jokes or corny stories. It is almost like visiting the school 75 years ago, while your ancestors were young. Some yearbooks also include information on faculty and alumni.
Our collection of several hundred original, vintage photographs includes antique photos of all types; cabinet cards, tintypes, carte-de-visite (CDV's), portraits and real photo postcards (RPPC). We also have photo albums, group photos from family reunions, the workplace and schools. Most of these photos are over 75 years old.
Our ephemera collection has over 1,000 pieces includes vintage or antique documents, letters, billheads, invoices, postcards, wedding invitations, business cards, prescriptions, matchbook covers, Victorian trade cards, school programs and school souvenirs. Most of these items range from 50 to over 125 years old.
Whether you are researching your family roots (or lineage), we can help. Please check our database for all the branches and surnames from your family tree. We have also been able to assist writers and collectors in their background research on the history of people or companies in our database. We cover everything from birth records to obituaries, military service during the Civil War and World War 1, and almost every aspect of daily life and day to day business in the late 1800's and early 1900's.
While we charge a fee to send copies of information or original items, it is a small price to pay to find potentially valuable information from long ago (and it may even help with that brick wall you have been facing in your research).
Please use the on-site search engine at the top of this page to see what family treasures we may have waiting for you. Or visit our home page for a detailed overview of the resources we have available.
(commonly misspelled words: genology, geneology, geneaology, genology, ancester, ancester's, ancestar, ancestar's, ephamara, ephamera, biografical, biogrophy, surnam)